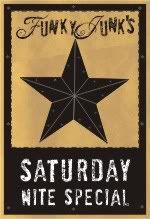 I am linking to  Funky Junk's Saturday Nite Special, the chandelier edition.   Check it out because Donna has not one, but three categories to link to!
Wow.    It's been a little over a month since I  blogged.     I hope I haven't forgotten how to do it.    Not that I was ever an expert at it, but it is something I enjoy doing and learning more about.
Actually there hasn't been anything blogworthy to write about.     I have been super lazy busy and haven't worked on anything around the house recently but I know of at least two potential projects that I would like to start so maybe I will have something to write about soon that someone out there might find super inspiring.    Ehh…probably not, but a girl can dream.
Enough of all that.    I know the reason you are here is to see my fabulous chandelier.     Oops…I don't have one.   But what I do have is a picture of my precious little great-nieces' chandelier that hangs in their bedroom which is painted a girly pink.  Their talented and creative mom, who is my niece, painted an ugly old brass chandelier white.    She bought plain white lampshades from Ikea and covered them in pink gingham and added a pink and green trim with tassels and then draped "pearls" around it.    It is precious!   Perfect for the little princesses.
I wish I had a better camera and better photography skills because this photo does not capture the true cuteness of this chandelier.    But at least you get the idea.   At least I hope you do.
That's all I got.    I know it's not much, but it is what it is.    I hope you all enjoy the rest of your weekend and wish you a Happy Valentine's Day!
Marlee