Once again I spent most of Saturday morning cleaning out my storage shed.    Lots of junk has been found in there but occasionally I find a treasure.
That is the case with this yellow wooden and metal Coca Cola crate.    I remember it gracing a wall in my mother's den.   If this doesn't scream 70's décor, I don't know what does.   One of the dividers was cut out to accommodate the bonnet on the little girl.
I am loving the color and the chippiness (is that a word…if not it should be) of this crate.
The ugly lovely contents were removed and replaced with some items I found around the house including some rubber stamps, a hand-painted ceramic house that my sister brought me from Spain, and two pair of miniature shoes from my shoe collection.   You can't tell from this crappy picture, but the little cherub on the bottom row has beautiful blue eyes!
The crate was hung on the foyer wall right off my den.
Do you have a coke crate?    I would love to know how you use yours in your décor.
Thank you for visiting.     I am off to drink a coke!
Marlee
I will be linking to these fabulous blogs that provide me with so much inspiration:
Met Monday  @ Between Naps on the Porch
Show off Your Cottage Monday @http://www.houseinroses.blogspot.com/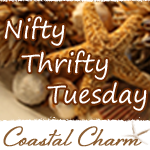 Nifty Thrifty Tuesday @ Coastal Charm