I wasn't too inspired to decorate for fall until I took a trip to the local produce stand and found myself in pumpkin paradise!
No matter which way you looked, there were pumpkins of all sizes, shapes, and colors.
The cute scarecrow in the green shirt is my hubby. 
After leaving all this fabulousness we went to a yard sale where I purchased a plant stand for $5.00.   I knew the perfect spot for it would be my front porch.    The stand was white when I bought it, but the white didn't show up against the yellow siding on my house so I spray painted it turquoise, made a bow, added a huge pumpkin, a sassy little scarecrow, and a few other things lying around the house.
Both birdhouses were left by the previous owner.     The lantern was a clearance purchase from Lowes last year.
The rustic birdhouse has an old nail in it which is being used as a perch.   My hubby says that type of nail has not been manufactured since the early 1900's.
Since I am trying to keep it simple and thrifty this year in my decorating, I think I achieved it.   Thanks for visiting!!
Happy Fall Y'all!
Marlee
Partying with the pumpkin at Coastal Charm's
Nifty Thrifty Tuesday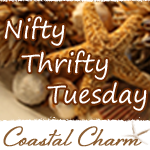 and the Fall Nesting Party at