Happy New Year!  Welcome to my first post of 2012.   Like so many of you I have started out the year attempting to organize  the clutter.     The weather has been mild here recently so into the storage shed I headed to sort through boxes.
Tucked away in a corner I found a box marked "Mom's Kitchen."    I eagerly opened the box not knowing what I would find.   To my surprise and pleasure I found her set of Red Rooster dishes which were part of the Poppytrail line produced in the mid-50's by Metlox, a company in California which closed in the late 80's.     I vividly remember eating many a meal on them.
I grabbed two sets of salt and pepper shakers and a sugar bowl and brought them inside.     Not knowing much about the dishes, I googled them and found out that the solid colored shakers represent barn silos.    The salt shaker has two holes at the top and the pepper shaker has three holes.    Both have a riveted detail down the side and they still have their original plugs which are stamped Metlox.  The plugs are missing from the hen and rooster.
The sugar bowl has rivets on it also.    According to the article I read online, the solid colored pattern was introduced a year after the patterned set came out.    I look forward to taking more time to sort through the box and see how many plates and other accessories are in there.
Finding these colorful dishes brought back a lot of good memories of times spent at the dining table with my family.    I hope this new year produces lots of good memories for you.
Marlee
Thank you for visiting today.     Please join me at  the following parties:
Show off your Cottage Monday @ The House in the Roses
Nifty Thrifty Tuesday @ Coastal Charm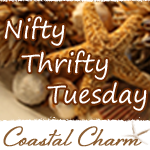 Feathered Nest Friday @ French Country Cottage
Vintage Inspiration Friday @ Common Ground