I hope you all had a wonderful Thanksgiving.   Mine was blessed with family, friends and good food!
A couple of weeks ago I passed a yard sale as my honey and I were making a quick trip to Lowes and after a heartfelt plea he reluctantly turned around so I could take a quick look.   Turns out there was lots of "guy stuff" and he ended up buying  more than I did!  Don't you hate it when that happens?
My purchases included a basket for $1.00 (with one thrown in for free) and this bamboo footstool (which is also sturdy enough to sit on) for the low price of $5.00.
A little two inch foam, some new fabric and a staple gun resulted in this beauty!
In closing I will demonstrate the functionality of my new footstool.    I can often be found in this position reading a good book, watching t.v. or relaxing after a day of thrifting.   Life is good!!
Thank you so much for visiting with me today!    I hope you will also visit the lovely Linda at Coastal Charm for Nifty Thrifty Tuesday.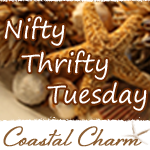 Have a fabulous week!
Marlee