Oh my goodness.   Easter snuck up on me this year.    Usually I pull out my Easter décor at least a month before the holiday, but that did not happen this time.     So, I decided to scale back and just decorate in my kitchen.
I have a small but growing collection of bunnies.      They are currently multiplying  on my open kitchen shelving along with the glitter houses I bought on clearance at Kroger last year.
This sweet bunny was a Marshalls find a couple of years ago.   She was on clearance for $3.00.
This is my glam bunny.    She has a lace collar, is glittery all over and is rocking that  basket of eggs.     I found her at a gift shop in Fairhope, AL.   She was not on clearance, but that's okay.    She was worth it.
Love the little glitter church with the bell tower purchased on clearance at Krogers for $2.00.
All of the glitter houses are surrounded by bottle brush trees.
The bunny plate was purchased at Cracker Barrel last year after Easter for 75% off.     Love the basket weave look along the scalloped edges. 
My only new Easter purchase for the season was the glitter birds and birdhouse ornaments  from Pier One.     I already had the Easter tree.    They are perched on an Easter place mat on my round glass table on the sun porch. 
And last, but certainly not least, is my moss bunny that I purchased at Trees N Trends for around $3.00.  
I will be linking to the following parties.
Coastal Charm for Nifty Thrifty Tuesdays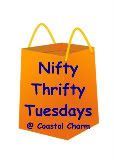 Savvy Southern Style for Wow Us Wednesdays
Blue Creek Home for Treasure Hunt Thursday
Wishing you all a blessed Easter!
Marlee