Last weekend I went to a yard sale which to my surprise turned out to be an estate sale also.  It was the second day of the sale but I still managed to score quite a few items for the low, low total of $10.00.
My found treasures included 2 garlands, 2 tables, 2 mirrors, 2 baskets, 2 glass floats and 2 candle holders.   It's the Noah's Ark of home décor!
One of the tables has already been painted and will be featured in a future post.    Here is a sneak peek at the original top and a glance at my turquoise painted toe nails.  Anyone care to guess what color this top got painted?
The other table (plant stand?) I left just as it was because I liked the look.   It is unique in that the wooden and iron top comes off to reveal an X shaped frame.
This adorable little table found a home next to the stairwell.   I placed a framed watercolor print on it and a small aqua colored hurricane jar that I purchased at Old Time Pottery for 99 cents.    The fake ficus insisted on being in the picture.
To check out more thrifty treasures and all sorts of other goodies, please visit the Thrifty Treasures party hosted by Rhoda at Southern Hospitality, Nifty Thrifty Tuesday hosted by Linda at Coastal Charm and Potpourri Friday hosted by Honey at 2805.   You can find me there!!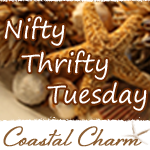 Thanks for dropping by.   Hope to see you again soon!!
Marlee
I always liked the story of Noah's Ark and the idea of starting anew by rescuing the things you like and leaving the rest behind…
Zach Braff