Recently I have been in the mood to paint so before that feeling turned into a distant memory, I acted on it.
My first project was a small table I bought at an estate sale a couple of weeks ago for approximately $1.00.   You can read about all the goodies I found that day here. Overall, the table was in good shape with the exception of the top.
Using left over paint from other projects, I painted the top turquoise and the legs white. Since I have no artistic abilities whatsoever, I stenciled the top with a Martha Stewart nautical stencil purchased earlier this summer with a Michael's 40% off coupon. The table needed a little something extra other than the lonely starfish so I decided to stencil a border on. I quickly discovered this would be too labor-intensive and began to paint dots around the edges using the highly specialized method of dipping a pencil eraser in paint.
This precious little starfish table now resides in the master suite in a seating area I carved out for myself. The bamboo ottoman was a frugal find last summer, the pillow was on clearance at Stein Mart and the chair was a hand me down from my sister so this cozy corner was beautified on a budget.
The next undertaking was an old stool that originally belonged to my parents I have had for it about 20 years and it has gone through a couple of transformations. While going through my tea cup phase, I painted tea cups on the seat with "steam" rising out of each cup. It was a cool 3-D effect at the time, but now it was nothing but a big ole pain to scrape off that puff paint. After determining that sandpaper wasn't working, I tried nail polish remover and it worked like a charm!
My intention was to paint the seat turquoise and the legs white because I liked the way the starfish table turned out. I was almost through painting it when I realized I had painted the whole stool turquoise and even though I ♥ turquoise it was too bold a look. Then I had the brilliant idea to do a whitewashing treatment on the legs to tone it down and that didn't look right either. Out came the white paint and I finally ended up with what I originally hoped to achieve. Once again, I used the Martha Stewart nautical stencils because I think they are so stinking cute.
Here are the completed paint projects side by side.   Please excuse the work site.  I was painting drawers also that day.
Thank you for dropping by to see what I have been working on.  I am linking to Nifty Thrifty Tuesday hosted by Linda at Coastal Charm and hope you will drop by there also.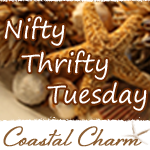 Have a blessed week!
Marlee