Whenever I go thrifting, I am always looking for baskets and bottles.     I can't seem to get enough of them.
I "coastified" this $1.00  basket purchased at a sale in a parking lot on the side of the road.   The blue bottle was $4.99 at TJ Maxx but I had a gift card left over from Christmas so it didn't cost me a dime.    The potpourri was a Home Goods find and I added a starfish to it that I have had for years.  I placed the potpourri in a clam shaped bowl that belonged to my mom.    She always kept it on top of her fridge filled with bananas so it holds special memories for me.
The total look.
The blue bottle in the back was purchased at a flea market for $1.00 and the amber bottle up front was 50 cents at a garage sale. The small red bottle  with a crown on it belonged to my aunt. It was in a box of stuff she wanted me to sell at a garage sale I had over 15 years ago. I couldn't sell it. My love of bottles has been with me for years.
This vintage (from the 1970's – I was alive and kicking in that decade - how can that be considered vintage?) Gallo Flavor Guard bottle which I purchased for $1.00 at an estate sale has a grape design all around the base.
"Age is just a number. It's totally irrelevant unless, of course, you happen to be a bottle of wine."  … Joan Collins
Thanks for visiting….Happy Thrifting.
Marlee
I am partying at: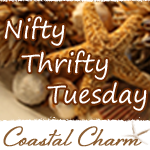 Nifty Thrifty Tuesday @ Coastal Charm