Happy Memorial Day everyone! I have been a homebody this weekend and have thoroughly enjoyed not having to be anywhere at any specific time. Marlee time! I need more of it.
With all this time to reflect and think, I was inspired to make a cross for my garden after spotting one in a gift store last week. It cost $34.99. Mine didn't cost a dime. I had everything I needed right at home including a handy hubby without whose help this project would never have materialized.
Using an old fence board, my handy hubby cut it to the size I wanted.
He drilled holes so he could insert dowels. I had plans to use wood glue but he seemed to think dowels would work better and who I am to argue with a man who has a drill and knows how to use it?
Then he inserted dowels to hold it together. I might add that I actually helped at this point by sawing the dowels to the proper size. Patting myself on the back here. LOL.
I considered leaving the wood as is, but chose to rub some white paint on to give it a whitewashed look.
Now came the difficult part….deciding what to add to the cross to make it special. The inspiration piece in the store had flattened bottle tops on it but the only bottle tops I could find around here were beer tops and I absolutely refuse to put a beer top on a cross! I took a stroll around the yard, spotted this hanging candle holder and knew I wanted that marble "flower" encased in rusted wire to be a part of my garden cross.
I took that sucker apart and added the marble flower to the top of the cross. The cross still needed something else so I continued my stroll around the yard where I spotted a string with a couple of mirrors and beads on it that had broken off a suncatcher. It was the perfect size. Everything was falling into place!
After attaching the marble flower with a small nail and stapling on the mirrored attachment, I stenciled on the word jardin. The cross in the gift store said garden on it but I like the sound and look of jardin much better. Here it is….the finished piece! You should be able to click on the picture and see the details more vividly.
Not too shabby for a crafter in training!
I sure hope the blogger issues have been resolved because I have suffered withdrawal symptoms from not being able to make comments. I see my followers are back so hopefully that is a good sign to indicate things are returning to normal. Thanks for stopping by!
Take care,
Marlee
I will be linking to the following parties and encourage you to visit them for loads of wonderful inspiration.
Met Monday @
Between Naps on the Porch
Show off Your Cottage Monday @
http://www.houseinroses.blogspot.com/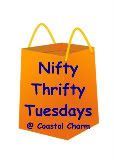 Nifty Thrifty Tuesdays @
Coastal Charm
Wow us Wednesdays @
Savvy Southern Style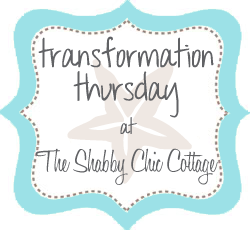 Transformation Thursday @
The Shabby Chic Cottage
Feathered Nest Friday @
French Country Cottage
Show and Tell Friday @
My Romantic Home