Happy Belated Mother's Day!    I hope all you moms out there had a fabulous day because you deserve it!!
I worked Saturday which put a serious crimp into my thrift shopping  but I managed to find time to stop at one yard sale on the way into work.
The sale had started on Friday so the merchandise was picked over but I spotted this cute little colorful bowl and had to have it especially when I saw it was priced at 25 cents.    That is not a typo.   I paid a quarter for this floral beauty.  It measures 2 1/2 inches tall (three inches where the flowers are) and is about 5 inches wide.
It is chipped a bit but I think that adds to its character.
I had not noticed the basket like weave on the bowl until I saw it photographed.
There is cracking and glazing on the inside and outside of the bowl which leads me to believe it is old.     It appears to be hand painted.
The wonderfully detailed bowl is a curvy triangular shape (there is probably a mathematical term to describe the shape but I don't do math) with three raised flowers on each side.   I shot this photo from above the bowl so you could see the shape.
The only marking is on the bottom and it says Made Italy.    Not Made in Italy, but Made Italy.   The marking is pressed into a recessed square shape on the bottom.
I almost didn't stop at the yard sale on my mad dash into work, but I am glad I did because this little vintage Italian bowl makes me smile.
Wishing you smiles this week,
Marlee
I will be linking to these wonderful parties and hope that you will pay them a visit.
Today's Thrifty Treasures @ Southern Hospitality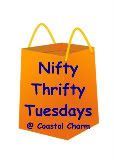 Nifty Thrifty Tuesdays @ Coastal Charm