Sherry @ No Minimalist Here is having an open house party so I thought I would join the fun.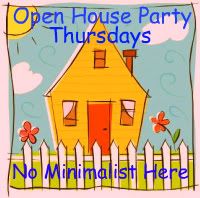 I was feeling a little blue this past weekend and when I feel blue, I go shopping!     You just can't beat retail therapy for curing the blues.    I had a $15.00 reward certificate from JC Penny that was about to expire, so that is where I headed.   No way was I letting fifteen dollars go to waste.
Once in the store I went straight to the home décor section.    I was in the market  for a round tablecloth  for the sunporch dining table.    A pop of color was what I wanted and I found it.
The vibrant colors of the tablecloth blend beautifully with the colors in my home.   The sunporch is painted lime green (Honeydew by Behr) and is adjacent to the kitchen which has a terra cotta accent wall.    The tablecloth is made out of an indoor/outdoor fabric and is sun fade resistant, stain resistant, mildew resistant (lots of resistants there) and water repellent.
Thanks for stopping by.     Hope to see you again real soon!
Marlee